"This needs some cleanup!"
This article needs some cleanup. You can help BrossWiki by cleaning it.
Gabriel C. Lomibao will be one of the staff of The New Felipebross and Eddybross Show but he will be the co-writer.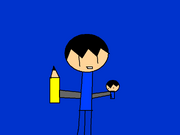 About him
[
]
He created his first show CD20's World and then he is the animator and writer in his first show. In his second show called BlueBlob Madness which he rarely uploads, the episode of CD20's world is realeased on June 2014 and the Blue Blob Madness was released on August 2015. He joins Scratch during April 2014 and he was 8 years old (Before November 2014). He turned 9 years old during November 2014 and is currently 10 years old as of November 2015.He will be 11 in 2016.
Accounts
[
]
Scratch
[
]
CreativeDrawings20 (2014)
GoodUser2005 (2014-2015)
CD20Channel is back (2015)
GlassComedian (2015-Present)
Youtube
[
]
GabrieltheComedian (2012-present)
Spolder, Minecraft PE, GoAnimate, and some more of his accounts.
Trivia
[
]
He is the creator of CD20's World
He is male.
He also appaer in TTFBAEBTS and TNFBAEBTS.
He is a GoodUser.
Gallery
[
]